Update on health & safety practices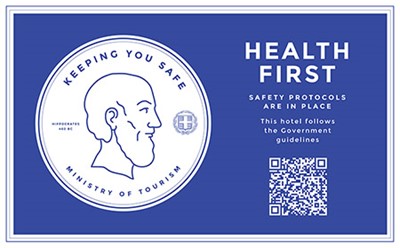 Dear Guest,
We believe that this world is meant to be explored. Therefore, when the time is right and safe to travel, we will make sure to be ready to welcome everyone at our premises!
More than ever, the health and wellbeing of our guests is of outmost importance and we are making sure that the Nakou Village  & Koutsounari Traditional Cottages team has everything they need to keep everyone, including themselves safe.
We keep on monitoring the developments on a daily basis and are in regular contact with all relevant authorities in order to always be up to date for country-specific requirements. 
Our staff has been given best practice guidelines, they have been given Covid-19 cleanliness-specific guidance, training and information to apply with our own very high cleaning standards.
Nakou Village  & Koutsounari Traditional Cottages recognize the responsibilities of hotels in regards of Covid-19 outbreaks and we are ready to play our part in both, the relief and recovery path of this crisis. Our hotels are Health First certified and follow the Ministry of Health's guidelines on cleaning and sanitation according to national legislation
We are in compliance with all health safety protocols from the National Public Health Organization (E.O.D.Y.) and the National Health Ministry, as well as additional government and European organizations that are required for our operation.
Below you'll find a comprehensive list of all the key measures to prevent the spread of Covid-19 being implemented at our hotel.
Our measures include:
Regular training of our employees on hygiene issues.
Co-operation with our local hospital and private doctors.
Use of protective equipment by employees.
We advise  our visitors to keep a safe distance of (1.50 + meters).
Hand sanitiser in all hotel public areas and rooms.
Disposable covers are placed on TV and air conditioner remote controls.
Laser thermometers available at the front desk in order  to conduct temperature checks.
Frequent cleaning and wash down of outdoor and high touch locations, including door handles, electicity swithes, remote controls.
Consistent and very regular cleaning of all surfaces.
All room keys disinfected prior to check-in.
For your safety, some services or amenities as pool snack bar and housekeeping may be modified or suspended.
Housekeeping will be less frequent during stays. Service, towels and sheets changes will be done only upon customer request. Otherwise it'll be done every third day.
We have reduced by one 1/3rd the pool area's capacity. The maximum number of persons in the swimming pool is 16. Please respect it.
Arrivals/Departures
Check-in and check-out times have been changed – check-in to 15h00 – 23h00  and check-out from 08h00 – 11h00
The added time between each check-out and check-in is necessary to ensure that each room is thoroughly disinfected between stays, and that the space is adequately ventilated.
Seating in all waiting areas has been re-arranged to allow for safe minimum distances. However, families or couples do not have to keep this distance.
Recorded personal files with contact details per guest (for medical only use if it'll be necessary).
Visitors
Hotel's rooms are for customer-use only.
Guests not residing in the hotel are strictly prohibited from entering even if they are relatives or friends.
We value each guest that honours us with a visit to our destination, Koutsounari, Crete
Sincerely yours,
Emmanuel Mantalas